The Blueberry Summit will be held on September 27-29 in the heart of downtown Savannah, GA. This event is bringing together industry influencers and thought leaders to explore inspiring blueberry possibilities that are sure to boost your bottom line!
SCHEDULE OF EVENTS
For your convenience, see the detailed schedule of events below. As we add events, we will update the schedule.
REGISTRATION INFORMATION
PRICING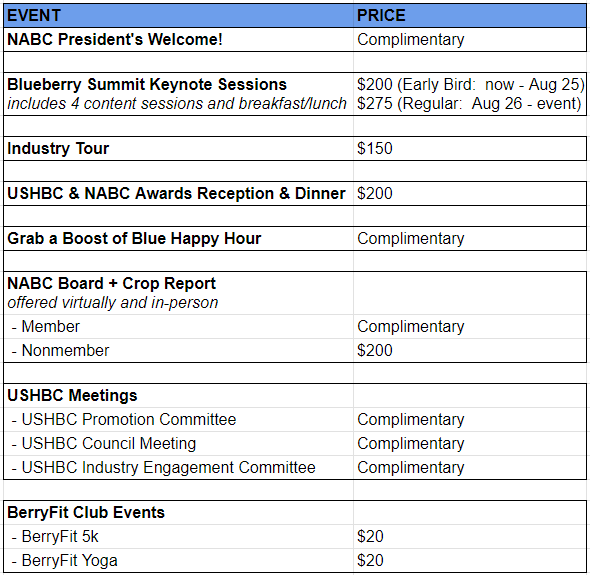 Registration Note
We have moved all event registrations to Impexium, a quick and easy solution to link your NABC Membership account and Event registrations. If you don't have an Impexium account, no worries! Simply click on "Create an Account" on the login page and Impexium will walk you through setting it up. Note that in order to attend the scheduled sessions (Education Sessions, Breakfasts and Lunches, NABC Board and Crop Report, etc.), you must select these a la carte items in your Impexium online shopping cart.
Group Registration Info
Please use the Group Registration option to register more than one individual within your organization at the same time. You may also have individuals within your organization register individually. Please note, group registration is limited to your organization. If you would like to register an industry partner (Grower, Supplier, Trade Organization etc.), please have them create an Impexium account, if they don't already have one, so they can individually register.
How to Register a Guest
Guest Registration is for individuals not related to your organization (i.e. Spouse/Partner).
TRAVEL INFORMATION
The Blueberry Summit will be hosted at the historic DeSoto hotel in the heart of downtown Savannah. The housing cut off deadline has passed. We recommend booking a reservation at a nearby hotel. Suggestions are listed below. If you have any housing questions, please reach out to Stacy Schlags at [email protected].
The DeSoto
15 East Liberty Street
Savannah, GA 31401
1-866-810-5325
Nearby Hotels:
The Drayton Hotel – 0.5 miles away
River Street Inn – 0.5 miles away
SpringHill Suites by Marriott Savannah Downtown Historic District – 0.5 miles away
Hampton Inn and Suites Savannah Historic District – 0.6 miles away
Embassy Suites by Hilton Savannah – 0.8 miles away
Airport Information
The DeSoto is 12 miles from the Savannah/Hilton Head International Airport (SAV). A quick cab/Uber/Lyft ride right into the heart of Savannah!
EXHIBIT AND SPONSOR INFORMATION
The blueberry industry has never been more exciting! The time is right for you to get involved in this growing industry and connect buyers with your products, services and solutions. Become an exhibitor or sponsor today.
Exhibitor Pricing
The Blueberry Summit is proud to bring back Blueberry Lane, a unique tradeshow dedicated to providing solutions for the blueberry industry.
Basic Booth
includes a 6′ table (8'x8′ space), 2 chairs, 1 power strip
$2,500 for NABC Members, $3,500 for Non-Members
Expanded Booth
includes 2 6′ tables (16'x8′ space), 4 chairs, 1 power strip
$5,000 for NABC Members, $6,000 for Non-Members
Sponsorships
Learn more about The Blueberry Summit's sponsorship opportunities and give your business a boost!
If you have any questions being an exhibitor or further supporting the event through our sponsorship opportunities, please reach out to Mandy Boarman at [email protected] to assist.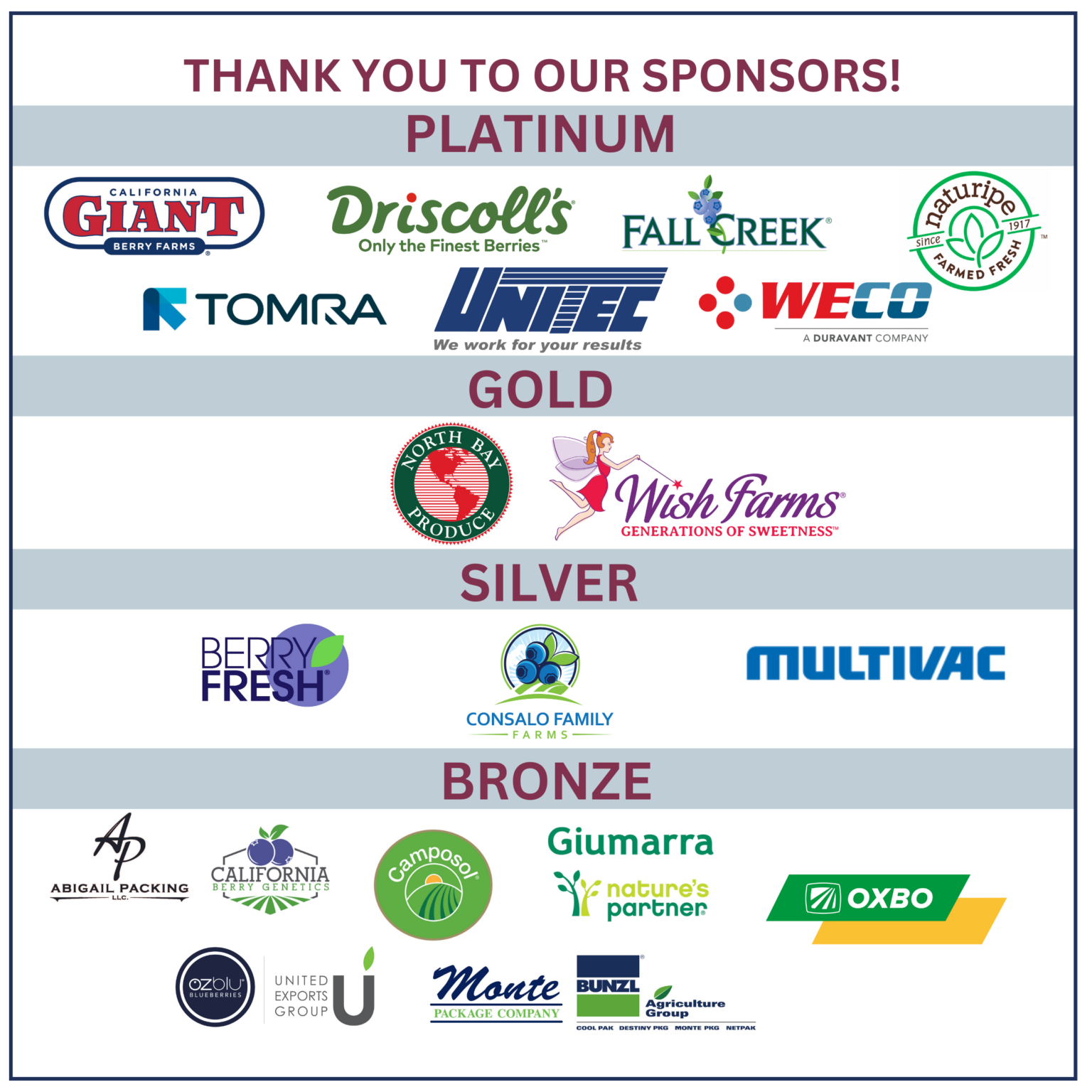 BLUESPIRATION!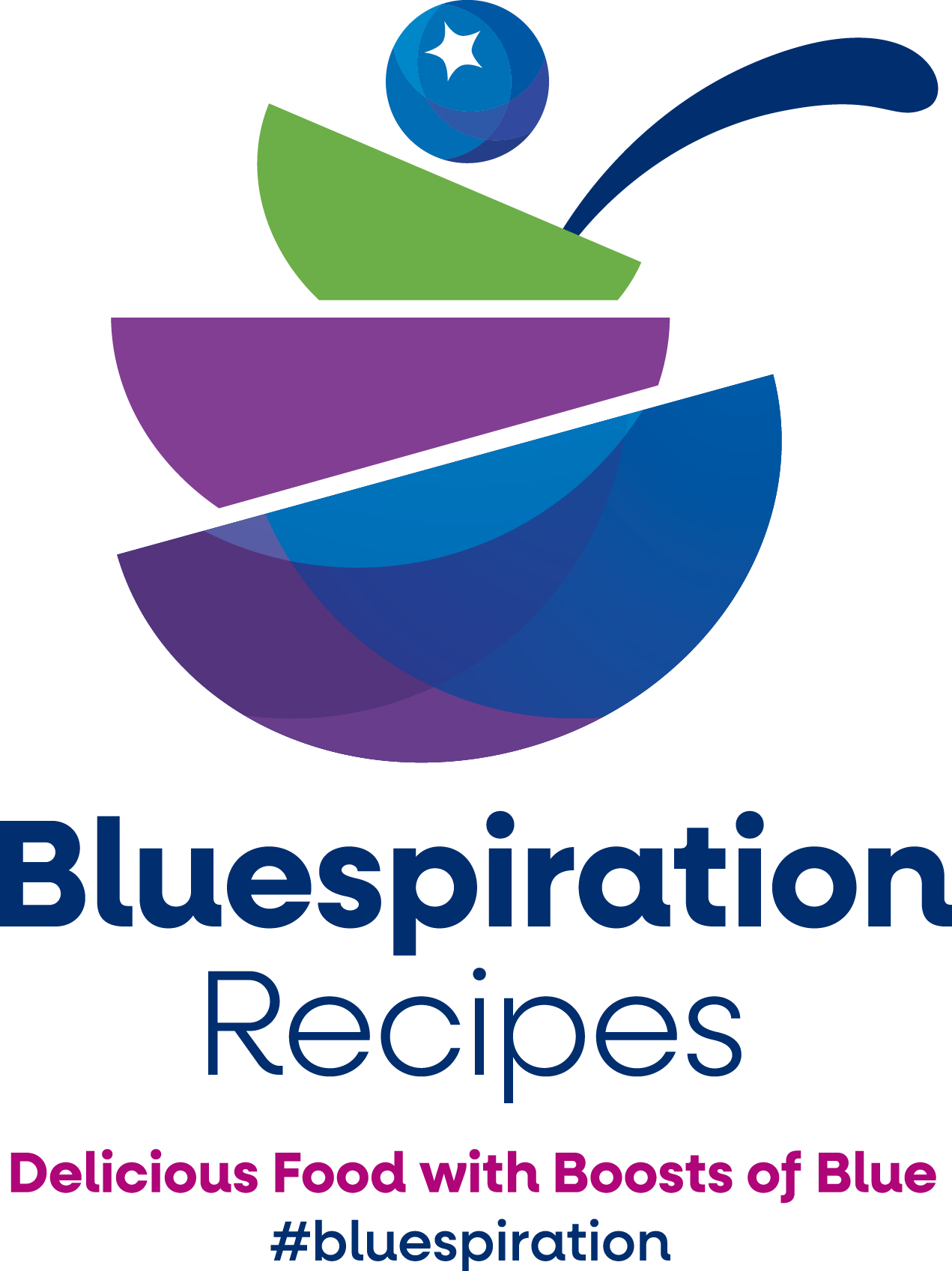 Enjoyed what you ate in the Keynote and Education sessions? Didn't get a chance to grab a bite at Happy Hour? Get access to all of the blueberry menus featured at the 2023 Fall Summit and recipes we were influenced by!
Keep the momentum going by creating these recipes at home, sharing on social media, and tagging us using #bluespiration.