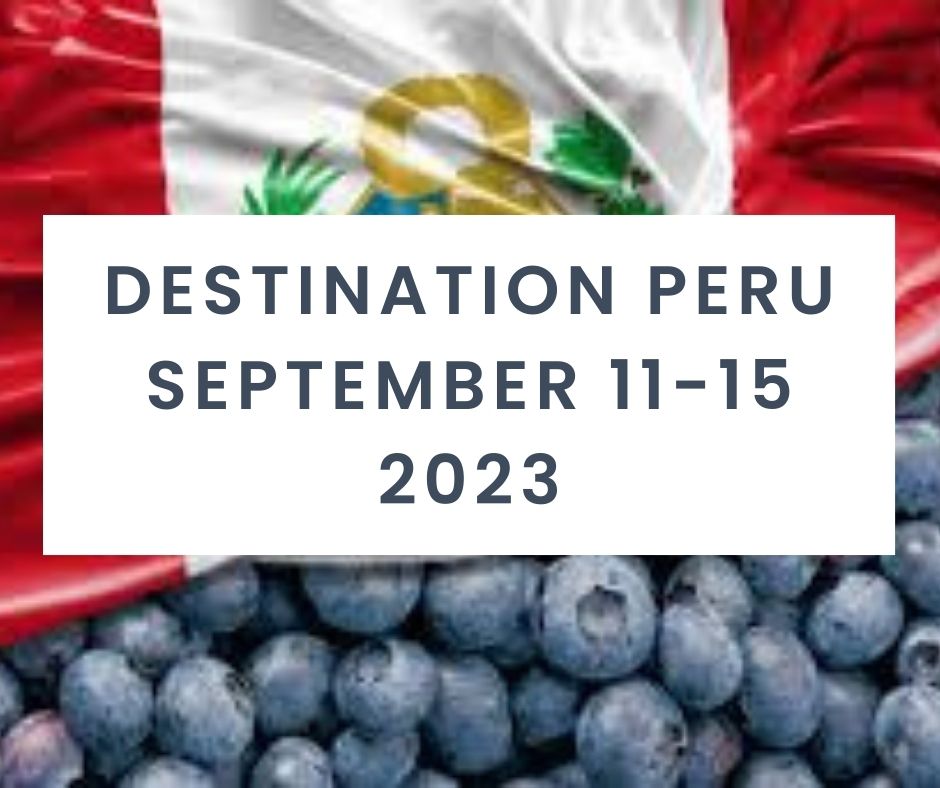 Destination Peru is an exclusive opportunity for members of the blueberry industry to see first hand and learn what is fueling the growth of this major production region. Together with Proarandanos, the USHBC and NABC will be hosting this guided journey through the blueberry fields of Peru and welcoming all members of the blueberry industry to consider joining a delegation of your peers for this unique opportunity.
As a group, we will have the opportunity to visit numerous farms and packing facilities in La Libertad and Ica regions. In addition to visiting the operations, we will have time to sit down and chat with industry partners to discuss global opportunities.
For more details, keep reading and make sure to secure your seat today as this trip is limited to 40 people!

Registration Fee
$1,950/person
What else do you need to do after registration?
Book your flights! We will be reaching out with more finalized details, but first and foremost, book your flights. You will need to book 3 flights for this trip, to include a middle-flight from Trujillo to Lima. See below!
What does your registration cover?
Your registration fee covers all travel related expenses once you get into Peru.

This includes:
– Your hotel reservations checking in on Monday, September 11 and out on Friday, September 15
– Group ground transportation
– All organized meals between 9/11-9/15
– All group activities and tours
Flight Schedules*
Arrival:
Monday, September 11: Arrive at any time, we may have a welcome reception, but content will begin Tuesday morning.
Airport: Trujillo, Peru airport (TRU)
Mid-trip Flight:
Wednesday, September 13: We will depart Trujillo for Lima this evening. In looking at flights, we should all book the 5:55pm flight leaving Trujillo to Lima.
Airports: We will depart from Trujillo, Peru airport (TRU) and arrive into Jorge Chavez International Airport (LIM) – Peru
Depart:
Friday, September 15: Depart at any time
Airport: Jorge Chavez International Airport (LIM) – Peru
*You are more than welcome to arrive earlier or stay later for sightseeing/extended travel. Just make sure you are in the correct city at the correct time/date!
Event Schedule
Monday, September 11
Arrivals into Trujillo
Tuesday, September 12
Tour Day in Trujillo
Wednesday, September 13
Tour Day in Trujillo
Fly to Lima
Thursday, September 14
Tour Day in Ica regions
Friday, September 15
Optional Free Day
Attendees Fly Home/Extend Travel
For a detailed schedule of events, CLICK HERE!

Cancellation Policy
Cancel on or before August 21st: Full refund
Cancel between August 22-September 4: 50% Refund
September 5-September 11: Non-Refundable
Questions?
Please reach out to Amanda Griffin at [email protected] if you have questions about this experience!